Calligraphy
We are introducing the attractive world of calligraphy from beginners to those who aim to become teachers and artists. Calligraphy is not only a traditional typeface, but also a modern style arrangement, and the beautiful initials of colored manuscripts, which is the origin of calligraphy, the world where 26 alphabets change in various ways will never get tired. The slow and polite writing time and the encounter with wonderful words enrich your daily life. Calligraphy is a wonderful art that visually expresses not only the beauty of calligraphy characters, which has the etymology of "beautifully written letters," but also the "leaf of words" that resonates in the heart.
Illuminated Manuscript
The Latin alphabet, which was perfected in the 1st century BC, has changed with Christian culture in various forms over time and area, and has been decorated with brilliant decorations such as decorative initials and decorative borders. A typical medieval manuscript decoration is the Celtic manuscript decoration created in a Celtic monastery that began in Ireland.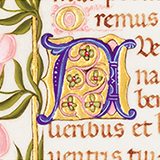 Celtic Illumination
In addition to celtic knots and spirals, as well as animals, birds, and characters that appear intertwined, are drawn vividly in the Celtic decorative manuscripts such as "Lindeth Fern Gospel" and "The Book of Kells". Experience a strange world beyond your imagination and enjoy the fascinating world of Celtic patterns.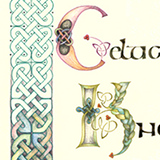 Calligracescope
It is a gentle art "Kaleidoscope of letters" woven by pieces of the alphabet. A world of beautiful design that fuses the calligraphy of the alphabet with beautiful lines and the beauty of kaleidoscope created by light and mirror.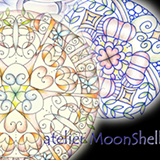 MoonShell Gallery

atelier MoonShell has produced many art works that beautifully design the letters represented by the alphabet. Discover a wide range of designs, including Western manuscript and Celtic decorations, West Asian miniatures, and wedding boards and cards.
Please see here for the many works that have been produced so far.
Design produced by MoonShell
atelier MoonShell produces Western calligraphy-based decorative characters, logos, and product designs. We will support the production of products and works with handwritten characters that match the customer's image. We also accept welcome boards, menu lists, and brushwork to decorate your wedding brilliantly.
Please see here for the many works that have been produced so far.
MoonShell Classes

atelier MoonShell teaches the arts and techniques to make the characters represented by the alphabet beautiful, from beginners of calligraphy to those who aim to become teachers and those who are active in the art field. Let's enjoy the world of calligraphy together by creating works based on Western European calligraphy.
Click here for details on lessons and programs.
To learn more about calligraphy